Sunday, September 1
9:30AM - 10:45AM Children's Religious Education classes. Please register your child here RE Registration
RE Classes this year: PreK-2nd grade, 3rd-5th grade, and Jr/Sr Youth (6th-12th grade).
All children must be potty trained to participate in Religious Education. We do have childcare available in our nursery for those not quite old enough for R.E.
9:30AM Adult RE 1 - Native Americans of South America. Meet in the Meditation Hall, 2nd floor of the Religious Education building.
9:30AM Adult RE 2 - Join us as we watch and discuss a TED Talk.
11:00AM Worship Service: "Holy Work", Rev. Briere
This service honors the work we do together.
12PM Fellowship Hour - Join us for coffee, snacks, and fellowship after the service.
Monday, September 2
1PM Kitchen of Hope - Volunteers are needed to cook (1PM), serve (3PM) and clean up (4:45PM). If you have time to help out at any of these times, contact Kim R. at KOH@hvuuc.org
5PM Family Promise Johnson City - We make dinner and spend the night with the Family Promise guests once per quarter at the Hopwood Christian Church. Volunteers are this date covered, but please consider helping out at our next date. Social Justice is also looking for a new volunteer coordinator in Johnson City. Contact Kim C. at socialjustice@hvuuc.org if you like to help out.
Tuesday, September 3
5:15PM Yoga with Tish - If you would like to try Yoga to help improve your core strength, balance, and ability to relax, please join a small group that meets in the Meditation Room in the RE building on Tuesday evenings from 5:15 to 6:30PM.
Friday, September 6
6:30PM Women's Group - The Women's Group will be meeting at the home of Cynthia G. in Jonesborough. All who identify as women are invited. Bring the usual beverage or snack to share and a lawn chair. See your directory for the address or contact womensgroup@hvuuc.org
Saturday, September 7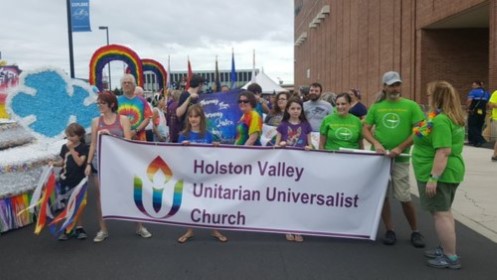 11AM-6:30PM Join us at the TriPride Parade and Festival in Kingsport!
The parade starts at 11AM and will go down E. Main to Clay St. The festival begins after the parade ends until 6:30PM. It will showcase vendor booths, music stages, arts and crafts, children's activities, food, and a sidewalk chalk art competition between Clinchfield St and W Market St. Please come out and support our LGBTQ community and show your support for Pride!
You can participate by:
· Walking in the parade! The Parade starts at 11:00AM. Walking units must report in by 10:30AM. Please dress up! If you have a church t-shirt wear that, otherwise something with rainbows, tie dye, or just something fun and colorful! Make up, beads, supportive signs, you get the idea! The parade begins at the intersection of East Main Street and Island Street, in front of Kingsport Cycles. It will go down East Main Street and end at Clay Street. This is only 5 blocks, about 1/4 mile.
· Bake cupcakes! Last year we had cupcakes at our booth in rainbow colors and they were very popular! We'd like to do that again and have even more to hand out.
· Volunteer at our booth to answer questions, hand out cupcakes, and tell festival goers about our church!
Email TriPride@hvuuc.org to volunteer to bake cupcakes or help out at the booth. It would also be good to have an idea how many people will be walking in parade, but you can also just show up!
https://www.tripridetn.org/